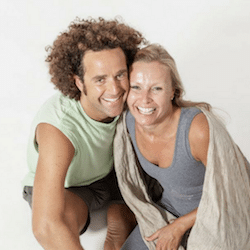 View all programs by David and Mirjam
David Lurey and Mirjam Wagner
Creators of Special Yin & Yang Methods

Home base: Palma de Mallorca, Spain
Mirjam and David share a combined passion for the tradition of yoga blended with a modern application of philosophy and anatomy. With over 25 years combined experience, they lead trainings and groups through transformational experiences year round. Weaving elements of Vinyasa Yin Yoga, Bhakti and Mindfulness makes each unique class with them a journey of body, mind and spirit that balances inner and outer relationships.
As a passionate and experienced Osteopath and yoga teacher, Mirjam Wagner found her true passion in the quiet practice of Yin Yoga and Yoga Therapy. In her teachings, she combines the scientific understanding of the human body with a healing spiritual approach by integrating Chinese Medicine, Meditation and Mindfulness. Sarah Powers and Paul Grilley are two of her most important influences and inspirations. Mirjam's profound knowledge, more than 15 years of teaching experience and her true compassion for a human being's well being makes her a very caring and inspiring teacher who guides you into a deeper connection to yourself and others.
David Lurey has been teaching Yoga since 2000 and is a self-titled 'Global Yogi'. Since 2005, he has been sharing yoga as a travelling teacher in Brasil, The United States and Europe with teaching inspired from different paths of yoga focusing on the dynamic transformation when Body, Mind and Spirit align towards self-realisation. With a physical practice that focuses on foundation and alignment, he supports students in awakening the inner teacher and with mindful awareness he guides students to a place of peace of mind so the essence of the heart can be revealed. As a musician, David leads weaves mantra and heart songs into classes supporting the opening and he also leads Kirtan chanting with an open and energetic feel awakening positive vibrations with a playful and loving connection.
Follow David Lurey and Mirjam Wagner
A yogic guide to ecological consciousness
Along with Vinyasa yoga, Acroyoga and Bahkti yoga, David and Mirjam also teach Green yoga connecting yoga to our natural environment. Green yoga focuses on fostering ecological consciousness, reverence and action in the yoga community. By combining real life activism at the consumer level and yogic teachings of harmonizing with our surrounding world, Green yoga can elevate consciousness and help save the planet through environmentally sound living.
 All programs with David and Mirjam
"Yoga is an art and a science when we look closely. The philosophy of yoga does not tell us what to do and what not to do.  Instead, it teaches us that we are in an experiment of cause and effect.  There are clear pathways to liberation in body, mind and spirit.  They are not easy, but with time, dedication and discipline, we are able to taste some of the sweetness of freedom." 
What subscribers are saying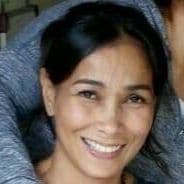 "It brings me to a new world and new me. It changes my life to a better one. Thank you."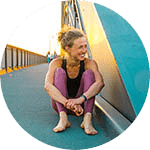 "TINT gives me the opportunity to learn from the best teachers around the world. I can highly recommend it."

"This is the first time for me to really care about what is yoga. Thank you so much for sharing."

Achieve personal fulfillment and success through yoga.
Our membership: On-demand videos, monthly live topics and quarterly live events.