AcroYoga is a dynamic physical practice that combines acrobatics, yoga and healing arts. It involves careful movements between partners and cultivates a unique sense of playfulness, trust and connection. Today, practitioners spanning across 6 continents, and millions of participants worldwide engage in this exceptional yoga practice.
How Did AcroYoga Come About?
Jason Nemer co-founded AcroYoga in 2003, alongside his friend and fellow yogi Jenny Sauer-Klein. In that year, the very first teacher manuals, online and on-site education and training curriculum were all developed.
His background comes from the world of acrobatics. As a teenager, Jason Nemer trained with some of the world's top acrobatic masters. In 1991, after four years of dedicated practice, he represented the United States at the World Championships of Sports Acrobatics. He was only 16 years old. Five years later, he performed acrobatics during the opening ceremonies of the Olympic Games. Competing and training with the world's top acrobats inspired his practice, as well as his great humility.
"AcroYoga is a practice that helps people move, connect and play."
Yoga practice came into the picture for Jason Nemer in 2001. It was the yogic connection to breath, the lifestyle and the philosophy of yoga that inspired him immensely. He developed ideas on how to bring his past acrobatic passion into a new and fused form. 'I have thirty years experience with acrobatics, and when I came to the yoga world I fell in love with the wisdom of yoga and the awareness of breath, and so many things that acrobats don't have. And as I have been in the yoga world, I see there are gems and gifts from the acrobatic world that help yogis become more empowered,' he says.
Today, Jason Nemer is still traveling, teaching, studying and bringing communities together through his practice. He truly believes that it is a healing tool, with the unique ability to connect people in a playful practice that ultimately encourages peace and global unity.
How Does AcroYoga Work?
A whole lot more than just partner yoga, AcroYoga is a progressive yoga practice with beginner poses which are accessible for everyone (and every body!). Movements come from three major sources:
combining the fitness and play of acrobatics,
the healing and movement of therapeutics,
the balance and connection of yoga.
The practice of AcroYoga is split into two key parts: Acrobatic (Solar) and Therapeutic (Lunar). Both sides explore the relationship between the mover and those being moved. In the dynamic Solar practice, participants adopt three different roles. These are:
Base (mover),
Flyer (being moved),
Spotter (knowledge of both).
Lunar therapeutics on the other hand, embraces the deeply healing connection to 'metta,' or loving kindness. Here, the Giver is the mover, with the Receiver as the one being moved. Balance is the midpoint between both extremes. There is something new and different to be learned by deeply exploring and experiencing this yoga practice from all positions.
"You don't have to learn how to play. You have to un-learn being afraid of it."
Who Is AcroYoga for?
It might look and sound a little complex, but you definitely don't need to be an acrobat, gymnast or even a seasoned yogi to enjoy AcroYoga. This practice isn't about being flashy; it's about carefully and gradually building your experience to new heights – at your own pace. Lifting and being lifted can certainly look daunting, but here's the thing: AcroYoga doesn't defy gravity, it honors it. This technique is far more of a significant factor than strength. This is why size doesn't matter and it's not just big people who do the lifting, and tiny people who do the flying. Through AcroYoga you will soon begin to learn that muscles tire quickly, while bones do not. Soon, you might even be lifting or counterbalancing someone who is twice your size!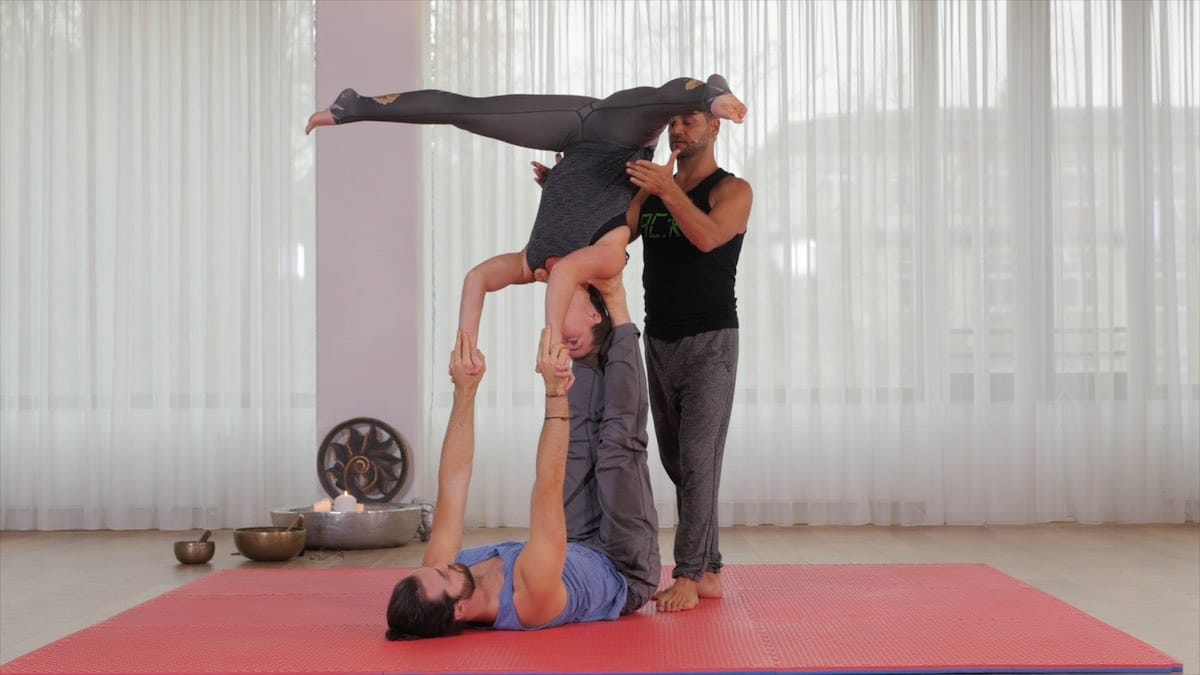 A huge part of the focus of AcroYoga is the belief that all people should feel comfortable to move and play regardless of differences in age, size, background or beliefs. It's about breaking down the false barriers that we have built ourselves. The AcroYoga community creates pop-up playgrounds, which can arise anywhere, at any time. This yoga practice is all about having an open space and an open mind – as Jason Nemer puts it: 'Whether you speak English or not, this is a practice that is in your body… this is a physical practice and a physical language that is connecting the planet.'
AcroYoga and the Benefits of Connection
One of the most distinguishable features of AcroYoga is its beautiful encouragement of human connection. 'I think that what I saw, and what I feel, and what I see other people get intoxicated by is the connection. The duality becomes a singularity. This ability for two humans to really become one human,' Jason Nemer expresses his enthusiasm. In this yoga practice, we learn the basics of supporting others, as well as being supported. We swap conversation for non-verbal cues and our timidness for a deep trust in the other.
A huge part of this has to do with giving and receiving. When was the last time that you let somebody physically move you? An AcroYoga class creates a safe space for exactly this. This can mean total engagement, total release, or to some degree, both. Every class participant experiences the same journey – and as we start learning how to support others, we naturally allow ourselves to be supported. We practice the experience of taking control and letting go.
"This is so much deeper than what we do in gymnastics, because we're actually touching someone's soul… You're touching their heart."
Another key component of Acroyoga involves communication. With lone yoga practice, we spend time in our heads and our own bodies. With AcroYoga and partner work, this same work is deeply rooted in a unique, shared experience. This practice helps to develop compassionate, open and direct communication between participants. After all, the choice here is to either work together – or fall apart. It's not the easiest thing, but it's a whole lot of fun. For example, imagine giving someone directions while they're in a handstand posture: up becomes down!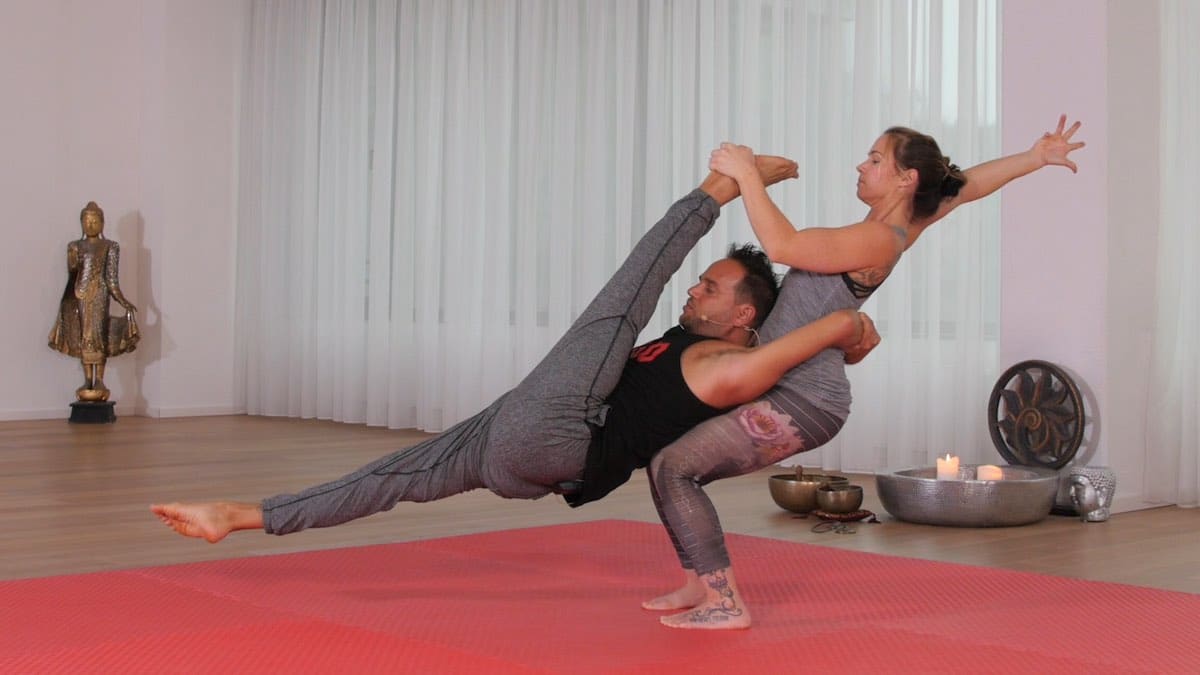 The last beautiful part of AcroYoga that we'll touch on is the inevitable: being removed from your comfort zone. The practice creates a tangible sense of freedom, courage and camaraderie in this mutual space. Remember, it is entirely up to you how high you want to soar or how slowly you would like to enjoy the process of actually getting there.
The Core Principles of AcroYoga
AcroYoga involves seven core principles from which the practice was created and operates. These are:
1. Safety
This is the first and certainly one of the most important pillars. In practice, we must take care of each other both physically and emotionally. AcroYoga involves the practice of accurate self-assessment. Skills must be built from the foundation, progressively – before attempting the higher level moves (incorporating spotters when required!). This yoga practice involves assertive and kind communication. It is vital that participants listen to the needs of their partners, truly honoring their requests as best they can, to honor their safety.
2. Fun
With that established, we move onto the Why. The answer could simply be: fun! AcroYoga invites fun into our lives and into our practice. This significantly differentiates the practice from many other branches of yoga since there is an emphasis on playfulness, light-heartedness, enjoyment and amusement.
3. Presence
Presence is the factor that enables the greatest potential for success with any AcroYoga practice. It is vital that those participating whole-heartedly commit to giving their undivided focus to their partners. This is why the use of any focus-altering substances must be disclosed to the partners before starting to practice together.
4. Trust
It is through trust that we earn confidence, and let go of our fears. With AcroYoga we begin to earn the trust of others – one positive interaction at a time. We must provide and depend on the integrity, strength and ability of our partners.
5. Courage
This is a big one. AcroYoga certainly requires 'the quality of mind or spirit that enables a person to face difficulty.' Courage is the catalyst for progress and transformation in our AcroYoga journeys. This means in particular to make choices that keep all practitioners involved safe, which also includes having the courage to say 'no' when we are not ready for a certain pose or practice.
6. Inclusion
This is at the absolute core of the AcroYoga worldwide community. AcroYoga invites everyone to join. This means people of all ethnicities, genders, classes, sexual orientations, abilities, beliefs, fitness levels, ages, and sizes! This means you!
7. Respect
Respect is the final core principal of the AcroYoga practice, and an integral part of human interaction. We must gain explicit consent, as well as state our boundaries with our partners. It's up to us to clearly express how we do and do not want to connect. We must listen and receive the expression of our partner's needs.
"Believe in human potential – not only your own, but others."
Where Can I Learn AcroYoga?
There are now millions of people in the AcroYoga community, which holds events and programs all the time, all over the world. Jason Nemer has partnered up with us to create an extensive AcroYoga program. From front planks to the flying vinyasa… this program will give you a great understanding of what AcroYoga is all about!
Check out the first video of our 10-part program. If you join us for our free 14-day trial, you can watch more videos of this playful and fun yoga practice.
References:
www.acroyoga.org
www.mindbodygreen.com/0-7723/8-things-you-should-know-about-acroyoga.html