Looking for music for your yoga class, but don't know where to begin? We've got you covered with our top 10 yoga music artists + 1 special recommendation – DJ Sol Rising, who we also interviewed for you!
"Music is a tool for transformation. It's a universal language that can cross all races and religions."
In this article, we will present you with our pick of the Top 10 Yoga Music Artists. We chose music artists from a number of different styles of music and genres in order for you to have a well-rounded overview of the topic. You'll learn more about the artists we picked and get playlists that you can use for your own yoga classes.
We also have a special recommendation for you – our favorite music artist DJ Sol Rising! Stay tuned until the end to find an exclusive interview.
To learn more about the importance of music for yoga, enjoy our article on why music is important for yoga. You can also read our article on how yoga and music work together. Or learn everything on the combination of hip hop and yoga.
1. Top 10+1 Yoga Music Artists
In the following, you'll find some of the best yoga music artists of different genres. There are some more traditional yoga musicians like Mantra music artists and some top Kirtan artists. But you may be surprised to also find some popular music artists and even musicians of music styles you wouldn't necessarily consider yoga music.
The order is rather arbitrary and not intended as a ranking.
"Music is movement medication."
1.1. Krishna Das
The first yoga music artist on our list is Krishna Das – one of the top Kirtan artists. The term Kirtan means "narrating, reciting, telling, describing" an idea or story and generally refers to Hindu devotional music. Since 1996, Krishna Das has released seventeen albums. The New York Times described him as the "chant master of American yoga".
1.2. Deva Premal
Deva Premal is a German New-Age singer. She's a well-known Mantra music artist and plays a number of instruments like the violin and piano. A Mantra is a syllable or word, or a group of words or phonemes, in Sanskrit that are believed to have religious, magical or spiritual power. The alias Deva Premal means "touched by divine love".
1.3. Moby
Possibly one of the most well-known yoga music artists on this list, Moby has sold 20 million records worldwide. He is a versatile musician, having produced a punk-rock oriented album and even written a song with No Doubt's Gwen Stefani. We recommend his album "All Visible Objects" on Spotify for your mindful yoga practice.
1.4. Enya
Enya is an Irish singer-songwriter and musician. She's Ireland's best-selling solo artist, who has sold an estimated 75 million records worldwide. This makes her one of the best-selling music artists of all time. Enya is known for her strong melodies and her stunning singing voice, which makes her a perfect yoga music artist especially for classes with a rather meditative and mindful focus.
1.5. Ólafur Arnalds
This multi-instrumentalist and producer from Iceland mixes strings and piano with loops and beats. Ólafur's sound ranges from ambient/electronic to atmospheric pop, making him a great yoga music artist as his music helps you and/or your students completely let go during a yoga class. Special treat: You can even download the sheet music to his albums for free on his website so you can play his songs yourself if you are a musical talent.
1.6. Jai-Jagdeesh
Jai-Jagdeesh, who already grew up with Kirtan in her blood, is one of the world's leading chant artists. She is not only a sparking singer with melodies that touch everyone's heart, but also a dancer and Kundalini yoga teacher. Her music is a unique combination of sacred sounds and soulful sounds. Apart from creating Kundalini mantra meditation CDs, she also tours, plays at festivals, and gives vocal workshops all over the world.
1.7. Simrit Kaur
Simrit Kaur is a Greek singer-songwriter who was orphaned as a newborn and adopted into the United States by Greek step-parents when she was a toddler. She now lives in California and has her own independent label, Simrit Kaur Music LLC. She is known for her ancient and fresh sound that has been shaped by decades of study and experimentation with Kundalini yoga and Nada yoga. Her music is generally described as "Hypnotic, haunting, brimming with mystery and groove…".
1.8. MC Yogi
MC Yogi is an American rapper and yogi whose music style is inspired by Hindu philosophy. Growing up in the San Francisco Bay Area in a group home for at-risk youth, he started rapping at the age of 13 and started practicing yoga when he was 17. He has now become one of the world's most-renowed yoga music artists and is a real multi-talent. Apart from producing music, he also live stream yoga classes, yoga teacher trainings, and has even published a book called 'Spiritual Graffiti'.
1.9. Matisyahu
Matthew Paul Miller, who is generally known by his Hebrew and stage name Matisyahu, is a US American reggae singer, beatboxer, rapper, and alternative rock musician. He has now formed a band that combines music with his lyrical desire to connect to something beyond the self. The band's music feels alive and is a full-band improvisation, being born in the moment – no two performances of a song are alike. Matisyahu himself, who is a vocalist with no other instrument at his disposal, is an important creative part of the improvisation.
1.10. DJ Taz Rashid
DJ Taz Rashid is one of America's best yoga music DJs and creates Spotify's Official Yoga Playlist of the Month. He produces and creates music for mindful events all over he the world. As a multi-talent musician, he plays the guitar, piano, didgeridoo and hand percussion. His music instantly fills any room with vibrational energy by mixing the beats and rhythms of various music styles and sounds. His music is aimed at revealing the body's creative wisdom and allowing those listening to feel, let go and awaken.
Bonus: DJ Sol Rising
Sol Rising was born in Vancouver BC and began meditating at age 4 and started his spiritual path at an early age – thanks to his mother who took him to various inspiring teachers. He soon became one of America's top scratch DJs and won second place at the world's most prestigious DJ competition. He also won first place at the same competition that Eminem competed in along with other recognized underground artists.
His music evokes feelings of inspiration and bliss through an eclectic mix of different styles of music. Find out more about him in our exclusive interview below!
2. Interview mit DJ Sol Rising
"Music can reach everywhere."
Sol Rising is a DJ. What makes him unique is that he "gears his music to yoga practice". He creates music for every part of your yoga practice, from sun salutations to Savasana – and everything in-between. We're very happy that Sol took the time to talk to us at TINT about his passion – music.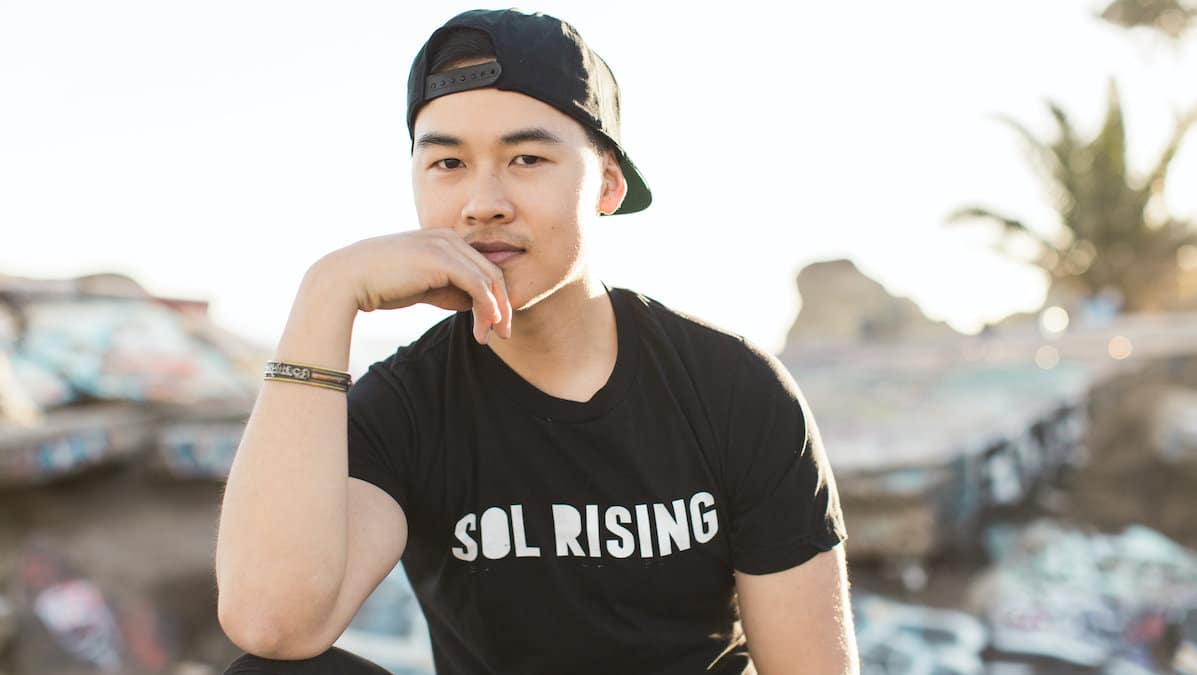 What does music mean to you as a person – and as a DJ?
For me, music is a tool for transformation. It's a universal language that can cross all races and religions. Nowadays especially, with the use of the internet and in our globalized world, music can reach everywhere.
How did you develop your passion for music?
Growing up, music meant a lot to me. It has always been my passion. My mother used to play music for me when I went to bed, and I'd have my own little radio to listen to music on at home. As a teenager, I'd start buying CDs and figuring out what kind of music I like. In high school, then, I saved up for my own turntables. I got into deejaying.
Did you always plan on becoming a music artist?
Really, my two passions growing up were basketball (and sports in general) and music. I never thought I'd become a music artist, though, I always wanted to be an athlete. As I got older, however, I realized how powerful music is. It brings enjoyment to people and can transform peoples' lives with how healing it is.
Seeing people transform on the dancefloor, getting out of their bodies and minds, that is special to me. It's a sort of movement medication. I guess that's my roundabout way of saying: Music means a lot to me.
How do you want your audience to feel when listening to your music?
I'd love for my music to have an emotional impact on my audience. For me personally, music makes me feel something. Whether that is sadness, joy, or an appreciation for beauty, it impacts me. Music needs to move me in a certain way in order for me to appreciate the beautiful side of things. That way, it has a dreamy, emotional, beautiful impact on me.
Since I have a background in hip hop, having been a competitive scratch DJ, music is special to me in many ways. I think all in all, music helps people get through difficult times. It always means a lot to me when people tell me that my music had an impact on them, and that it helped them get through difficult times in their life. That's really why I do what I do. I enjoy making music, but I love hearing that it has an impact on people.
Where do you find inspiration for the music you produce?
Well, in general, I'm always working and creating music. I'm a bit of a workaholic. I guess I can't really stop! Generally, though, I listen to a lot of different artists and genres. I think every artist kind of does that, you are inspired by everything you hear, and that variety influences every piece of art ever created.
Sometimes, when creating, I reach this zone or flow you could call it, and sometimes I can't remember how I made a song after having made it. I guess I'd probably not be able to recreate a song twice in the same way.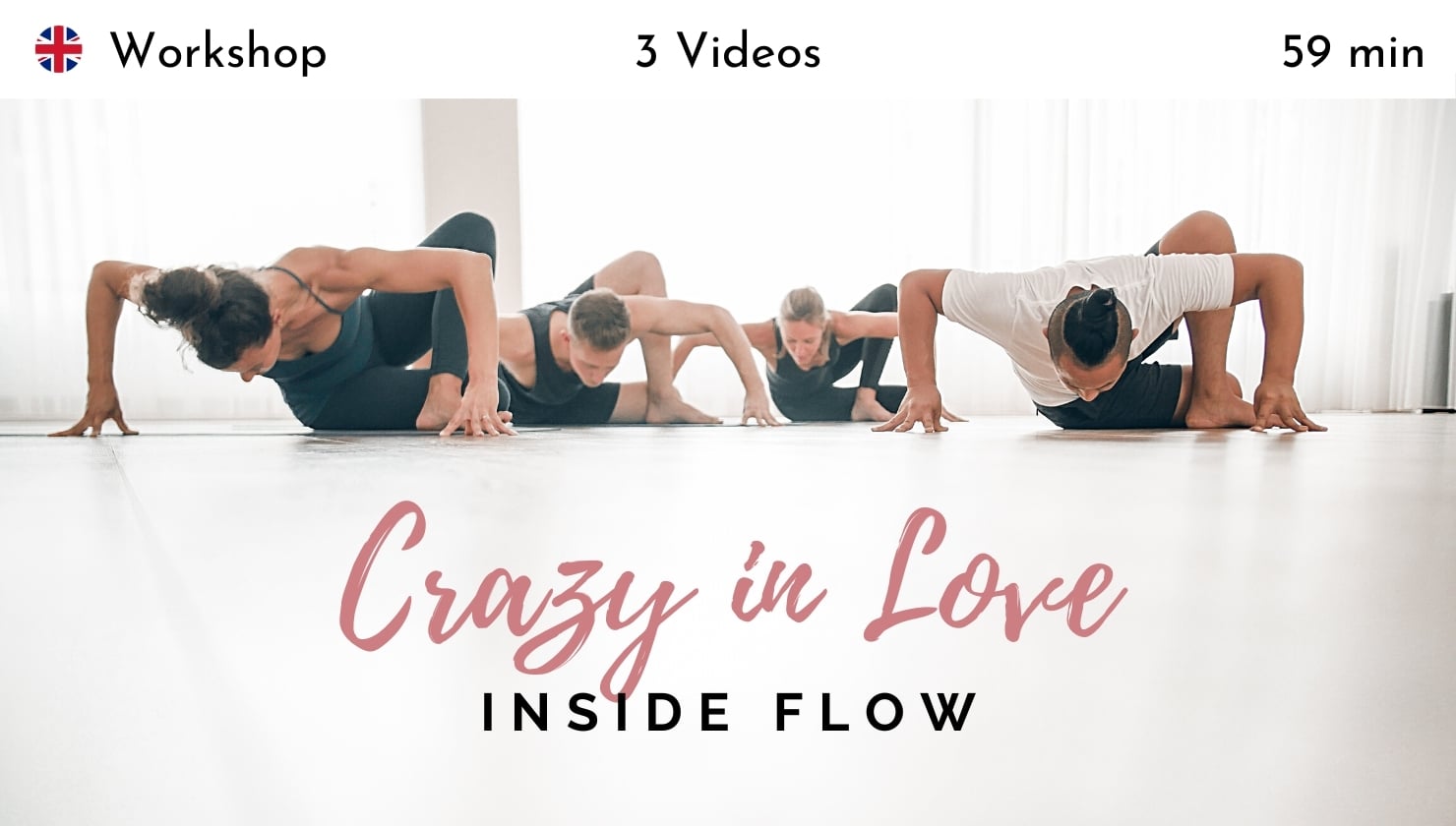 How do you think music changes a person's life (or yoga practice)?
For yoga, I think music can be very inspiring. It's interesting to choose music for a specific part of the class, like Savasana, a warm-up or the beginning of the class. My music in general is geared towards the different parts of the yoga practice.
Can music change lives? Well, especially during this pandemic (Note: This interview was held – digitally – during the Covid-19 pandemic), music can be therapeutic. It helps you get through the day, brings joy into your life. The positive vibration of music helps people through difficult areas of life.
Can you recommend any artists to our readers?
Sure. You can always listen to my playlists of the month on Spotify, I can recommend all of the artists on the playlist.
If you could choose one song your audience should listen to – which song would it be, and why?
That's a difficult question. I would say The Journey. It's my most popular song, so that's the one I would recommend.
If you had to choose one album, which one of yours would you choose, and why?
For me, that would be Chillout Sessions. The album holds a lot of sentimental value for me since it was the first album that was geared towards yoga classes. It was also my pivotal album; the album that started it all, that helped me take off as an artist, so to speak.
A big thank you to DJ Sol Rising for taking the time to talk to us about music!
Can't get enough of yoga playlists? Stay tuned and connect with TINT on Spotify for more yoga playlists.
And if you just want to listen to some good music and get inspiration from TINT founder Young Ho Kim which music to use during yoga, check out his weekly live stream Jukebox on YouTube.
We hope you enjoyed this article on the Top 10+1 Yoga Music Artists. Now it's your turn: Find TINT on Instagram or Facebook and tell us – in a story, a comment or a private message: Who is your favorite yoga music artist? No matter if you're a yoga teacher or a yoga student, let us know. We're excited to hear from you! For more upbeat content, join us on TINT.
---
Header Picture by light.spotters