THE ART OF TEACHING

ONLINE TRAINING FOR YOGA TEACHERS

presented by Barbra Noh & TINT Academy
42 Video Lessons
Detailed lessons on the key areas of yoga teaching including therapeutic alignment, different teaching skills, the art of sequencing and how to structure a class.
Academy Certificate
Guidance with assessment quizzes. Passing the final exam will be rewarded with a TINT Academy certificate of completion.
Get started
$299 $299 for Lifetime-Access 
30-Day Money-Back Guarantee
Learn from the founder of Strength & Grace Yoga
This online academy training is designed to provide guidance for yoga teachers. It will deepen your understanding of the role of being a teacher and increase your appreciation of the privilege and honor it is to share what you love with your students.
Barbra Noh offers you practical tools with which you will refine your teaching as well as developing more competence and confidence in your classroom skills.
You will gain an understanding of the specific teaching skills needed to make the learning experience for your students as easy as possible.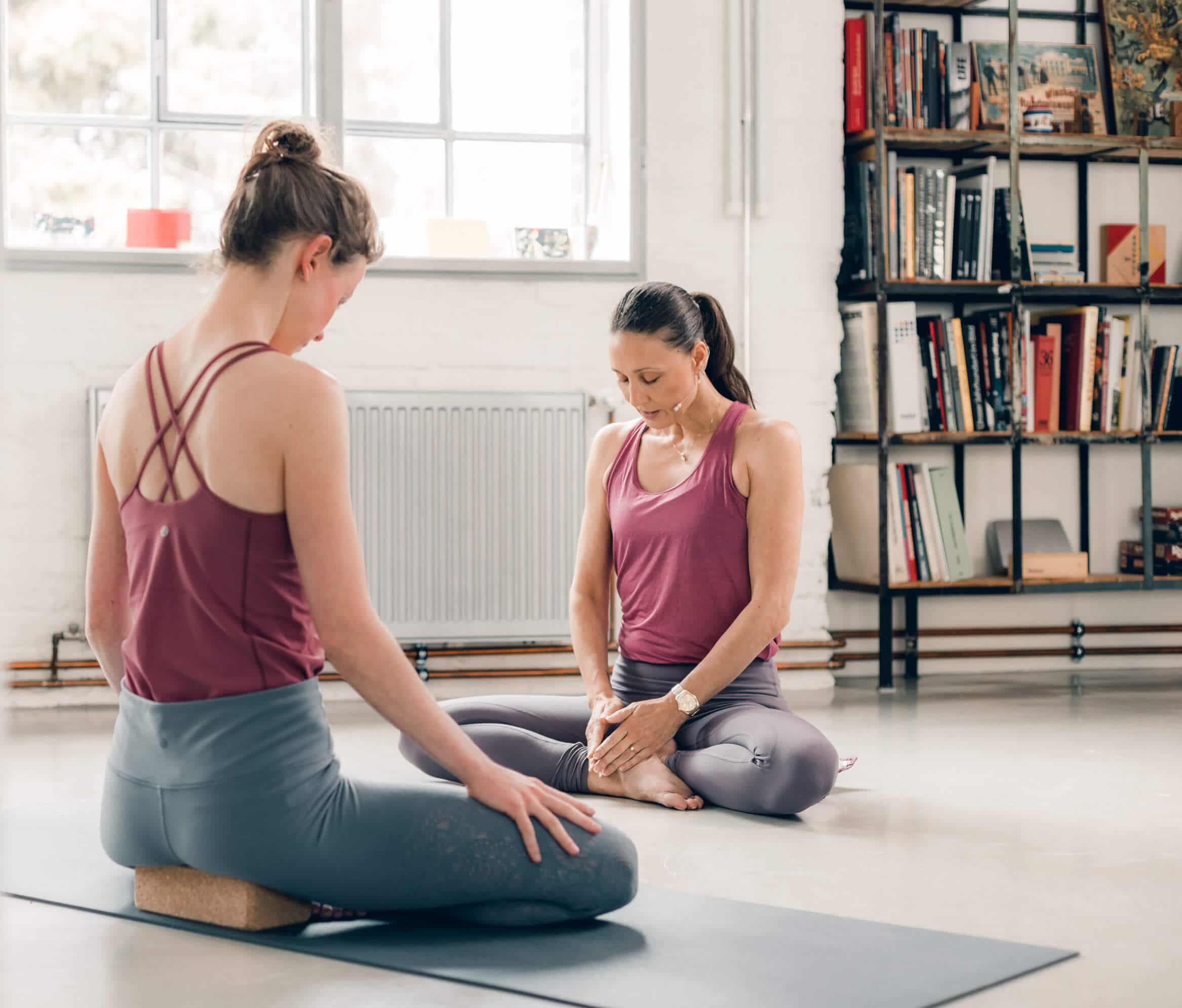 Over the course of 42 videos, you'll learn what it truly means to be a yoga teacher, how to clearly define your intention and purpose, and how to develop the mindset and attitude needed to serve your students in the best possible way.
"Be yourself; everyone else is already taken." – Oscar Wilde

Effective teaching is a combination of knowledge, experience, and good communication, founded on interpersonal skills and the ability to connect with students. Students give TINT Academy online courses an average rating of 4.9 out of 5 stars.
We offer 100% satisfaction guarantee on all purchases.
Lesson Plan of "The Art of Teaching"
This Online Training for Yoga Teachers is divided into 6 different chapters including lectures and practices.
Learn and practice what it means to be a yoga teacher, how to clearly define your intention and purpose of teaching, and how to develop the right mindset and attitude to serve your students in the best possible way.
2 Videos
01 – What to expect
02 – Story
Chapter II – The Seat of the Teacher
6 Videos
01 – Seva
02 – Sankalpa
03 – Understanding the Seat of the Teacher
04 – What does it mean to you?
05 – Practice
06 – Practice Recap
Chapter III – Attitudinal Guidelines
6 Videos
01 – The 5 Attitudinal Guidelines
02 – Relax
03 – Be Yourself
04 – Focus on the Students
05 – Embrace Challenges
06 – Enjoy the Teaching
Chapter IV – Teaching Skills
16 Videos
01 – Introduction to Teaching Skills
02 – The Intelligence of the Back-Up Sequence
03 – Barbra's Back-Up Sequence
04 – Back-Up Theme
05 – Styles of Learning
06 – Make it Potent
10 Videos
01 – Intelligent Sequencing
02 – Sequencing Towards a Peak Pose
03 – Sequencing Around an Action
04 – Therapeutic Sequencing
05 – Creative Sequencing
2 Videos
01 – Exam
02 – How to move Forward
Exam & The Art of Teaching Certification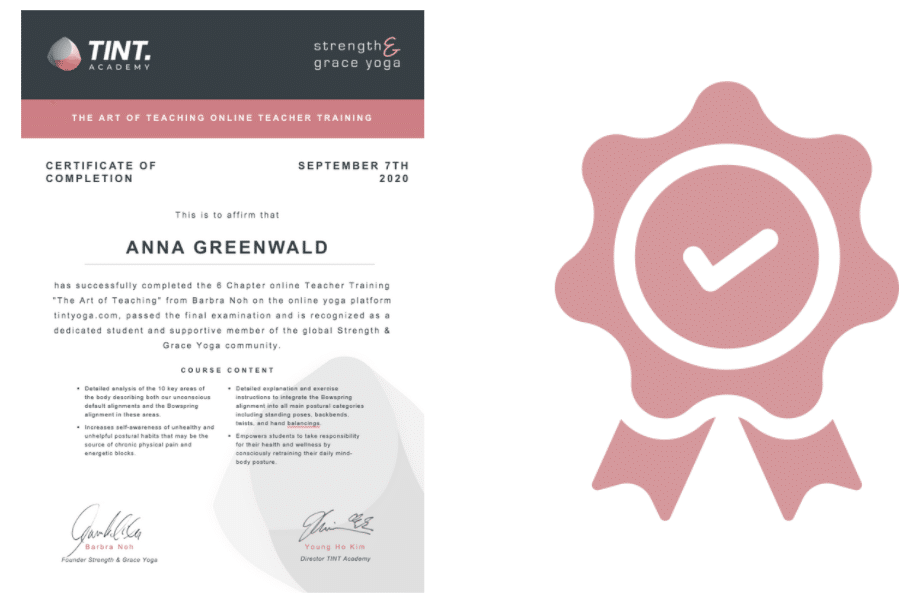 In order to encourage learning, this academy program is accompanied by exam questions to help you review the newly acquired knowledge of each lesson.
After having completed the video series, you will be able to submit your exam online to receive a teacher certificate from Barbra Noh and TINT Academy. In order to pass the exam, you will also have to submit a video project about sequencing and teaching skills.
More information about the exam can be found in the Exam Instructions PDF.
What you get with this training
42 video lessons organized into 6 chapters
Sample sequences for different purposes / practice examples
90-minute back-up sequence
50-page workbook with detailed guidance, available in English & German
Support from the TINT team
Exam questions & contemplative questions
Certificate of completion
$299 $299
Until 1st of October
30-Day Money-Back Guarantee
Barbra Noh – Founder of Strength & Grace Yoga
Barbra Noh has been a student of movement her whole life. She is an internationally recognised yoga teacher who loves to share her passion for health, healing and personal growth. With over 20 years of experience she is a leading educator for yoga teachers. Barbra began her movement training as a child in Australia and became a professional dancer at the age of 18. Yoga and meditation changed her life, giving her tools to work with her mind, heal her body and nourish her spirit. 
"I believe that the body is a gateway to understanding yourself at a deeper level, and that there is a pathway to inner peace and happiness"
Her classes are contemplative, powerful and dynamic; challenging yet sprinkled with humour. It is her great wish to guide students toward a healthier and happier relationship with their bodies and minds. It is her belief that through a deeper awareness of ourselves, we come to appreciate our own innate value.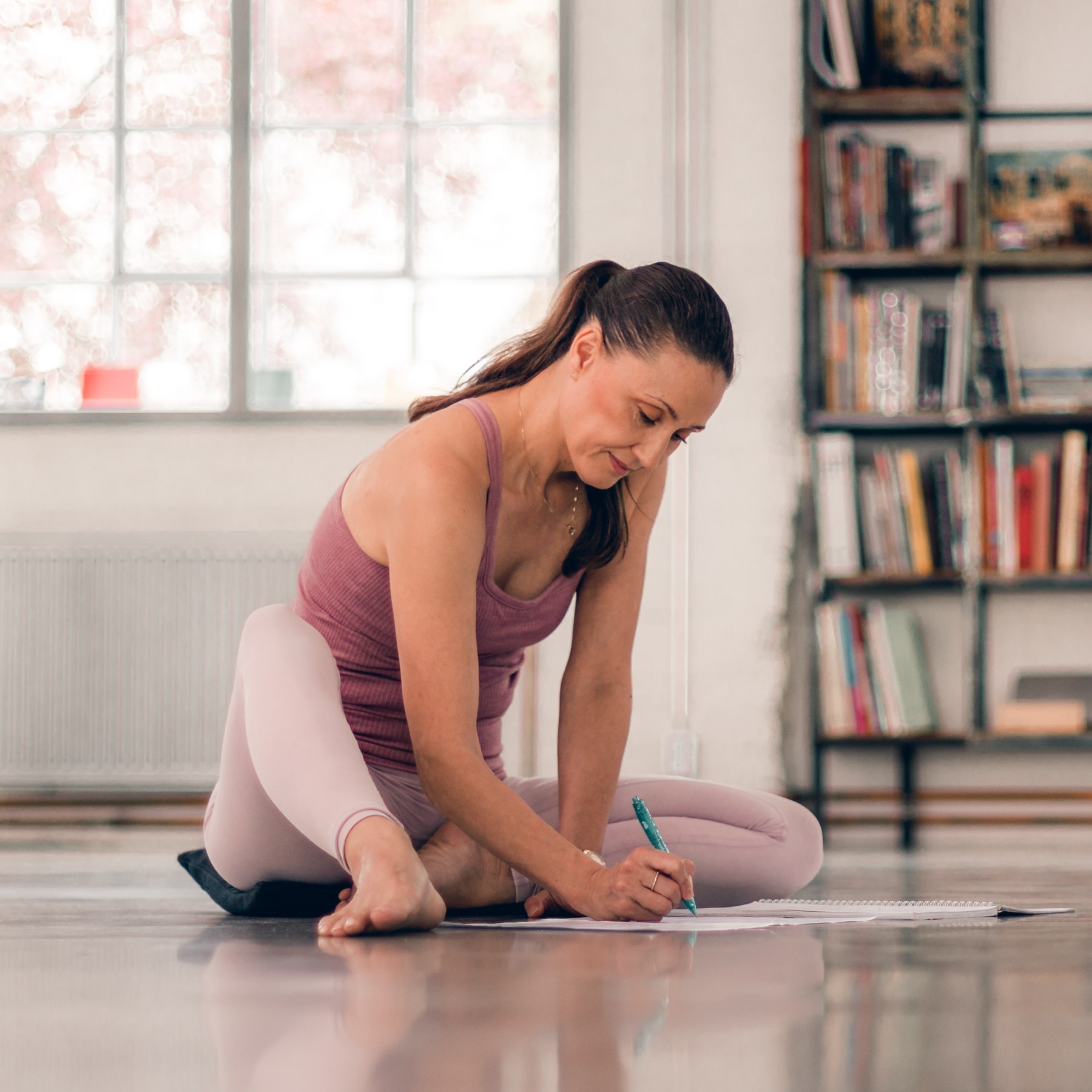 50-page workbook: The Art of Teaching
To strengthen your learning experience and further your comprehension of the course contents, this Academy program is accompanied by a 50-page course workbook summarizing all the relevant information in a clear and comprehensive manner.
With additional journaling and recap exercises, you have the opportunity to review your newly acquired knowledge and deepen your understanding of the Art of Teaching. This will help you better retain what you've learned and prepare you for the final exam. 
There's also space for your own notes and thoughts to identify and define your own goals and your self-perception as a yoga teacher.
How long do I have access to this course?
You will have access at any time, no matter when you purchase or begin the course, for the life of the course. The course and all included materials are accessible anytime and can be completed on your schedule.
How does it work?
The course content is delivered to you via online streaming videos with downloadable supporting documents. TINT Academy trainings can only be purchased via the website but the videos are also available via our iOS, Android and TV apps.
Discount for TINT members?
TINT Academy courses are not included in the membership. If you have an active TINT ALL-ACCESS membership, you are eligible to get a 20% member discount. Please request your discount here.
More questions? We've got answers here.

Secure payment methods
Pay via credit card or Paypal without any additional costs. The payment will be absolutely secure at any time.