Free Yoga Live Workshop – with Yoga Star Young Ho Kim
Feeling stuck in your yoga practice or your teaching?

Young Ho Kim, teacher of the teachers, will show you how to address two of the biggest pain points: Bad mood and bad posture.
The Inside Yoga way.
Bonus: Free Workbook with questions to challenge you even more.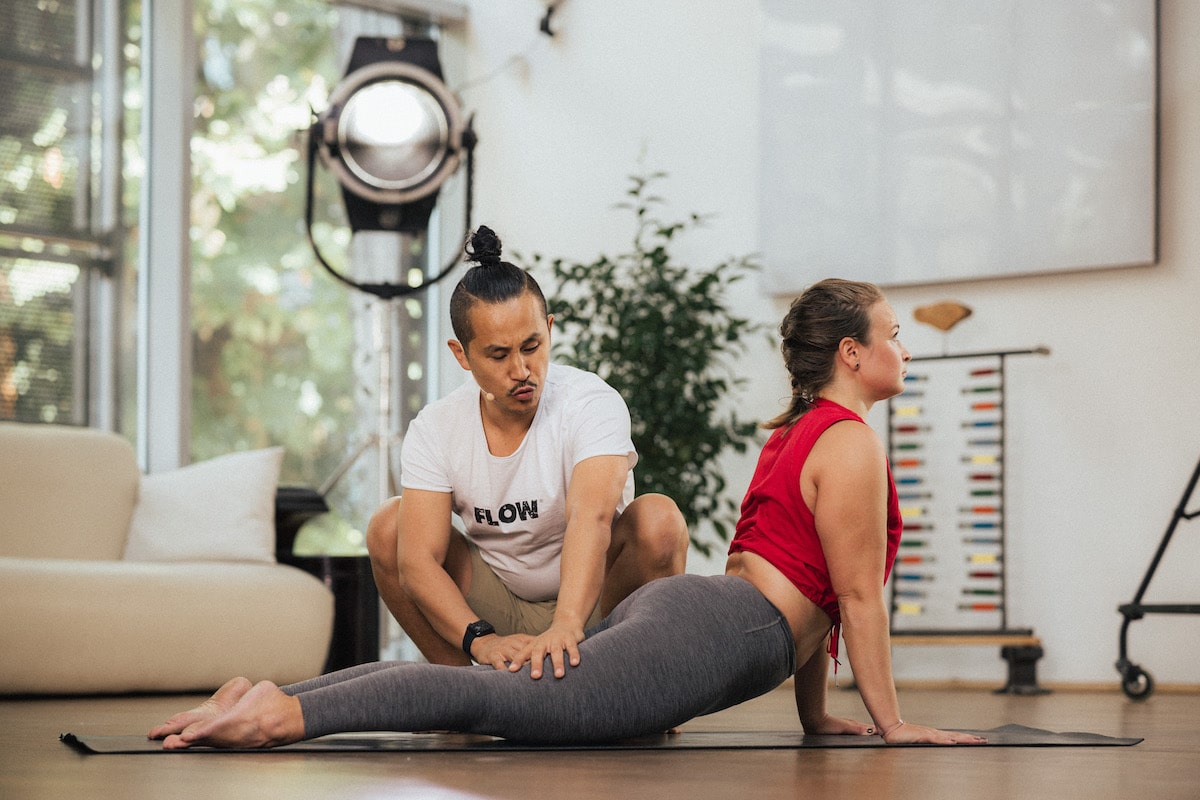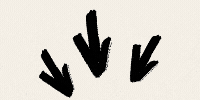 100% free, save your seat now
"I feel more confident and that's something I didn't feel before. The content is really relevant, it's a lot of knowledge and information.
It was life-changing. I feel like a new teacher.
My expectations were like… 🚀 "
"The problem was I didn't know how to adjust people and touch my students and there was something missing in the way I was teaching. The connection between students and me wasn't as it is now. I just felt lost and not ready to teach before the training. The teachers were really encouraging. I enjoy everything Young Ho does…"

I fell in love with music during my trip to New Orleans in 1996 and got in touch with yoga two years later in California. Eventually I became a purposeful scholar for years and years, learning from leaders around the world. Initially, I learned yoga the traditional way, but realized that we also need to embrace scientific evolution. This is how my own style Inside Yoga emerged, founded in 1999.
For 22 years now, I've shared my vision of doing yoga and inspired thousands of people. Totaling nearly 10.000 certified yoga teachers and more than 100.000 yoga class attendees.
According to the press I'm considered one of the most influential yoga teachers around the globe which makes me both grateful and proud.
I can teach you …
… how to be an effective, empathetic yoga teacher and leader.
… how to build your technique, embrace your story, and own your movement.
… to develop a much deeper appreciation for yoga you have never experienced.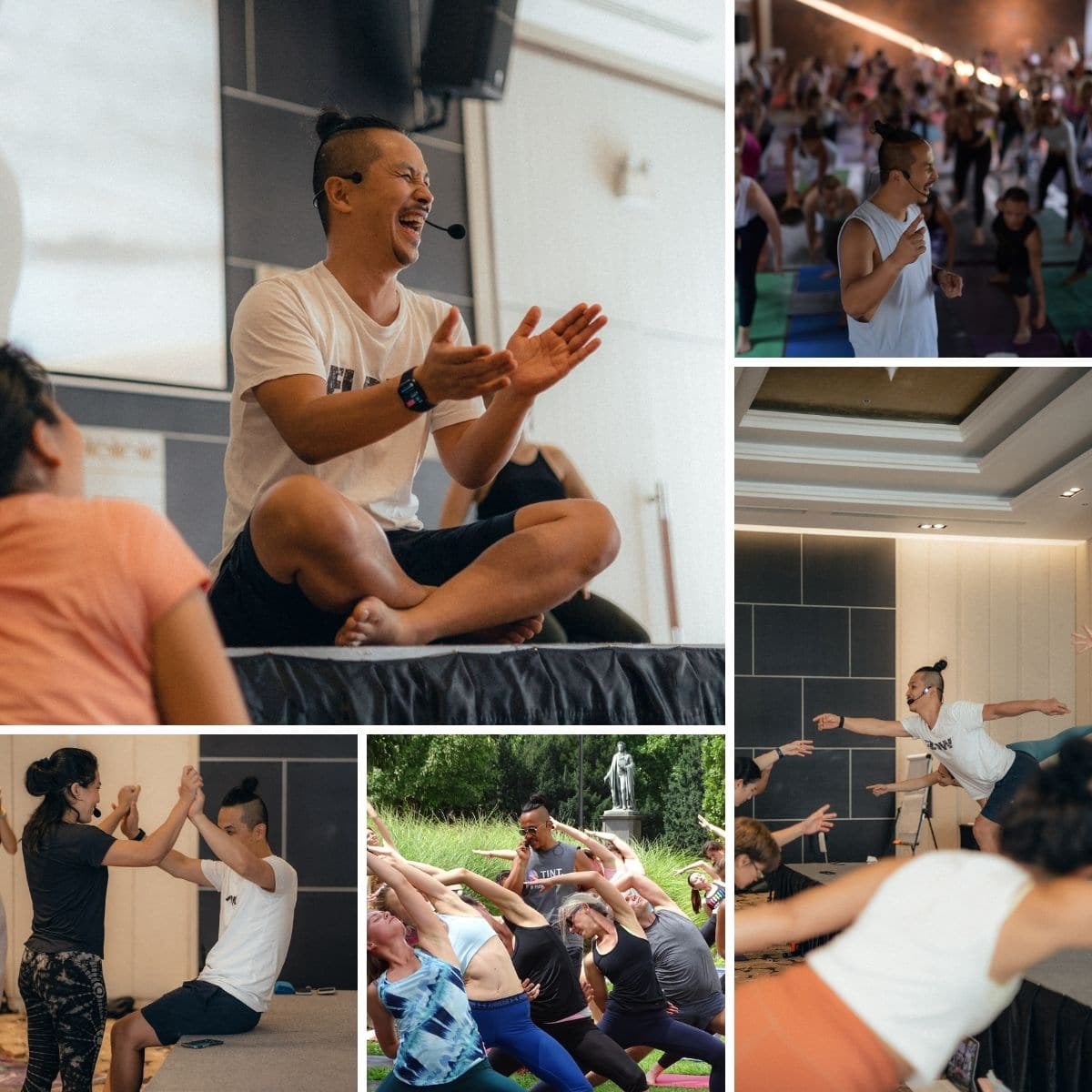 Did you know that I'm already fully booked for two years in advance?
This workshop is YOUR only chance left to practice with me live – wherever you are! 🤯
I Teach Inside Yoga – A Science-Based Style
Science-based Yoga
Regularly updated and science-based alignment techniques
Anatomy Insights
Based on most recent insights in anatomy and physiology
Body Language & Communication
Focus on teaching skills, body language, and communication.
Free of Dogma
Free of dogma and pseudo science.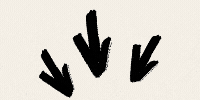 100% free, save your seat now
An Overview about the Workshop
Learn how – at any moment – you can get rid of your frustration and your bad, possibly painful posture. Experience the breathtaking power of flowglow with Young Ho Kim. Discover why in yoga in it is not about the looks. Feel the relevance and advantages of continuous learning – whether you're a teacher or a student.    
Passionate and ambitious yogis and yoginis, eager learners, posture-improvers, "my-cup-is-always-half-full" kind of people, anatomy fans, "I-should-change-my-bad-mood" kind of people, open-minded "traditions-are-allowed-to-change" people, non-beginners, … 
You get the picture, right? 
Because you want to actively make a significant change in your life. Because you want to change your frustration into motivation and happiness. And because we care and want to help you to get where you want to be.  
This Workshop Is Right for You If…


You love to expand your horizon in every direction – also if that means you need step out of your comfort zone.



You are eager to improve your physical well-being by learning about a scientifically correct posture.



You are an ambitious yogi or yogini but also frustrated with your practice. You want to fall in love with yoga again.



You think there is always more you can do and learn.



You know body and mind are connected and one can immensely influence the other.
This Workshop Is
NOT

for You If…


You think you know everything about your body and only you know what's right for it.



You are a complete beginner and would like to start yoga because you heard it's good for you.



You love traditional yoga and there is no way modern music sets the tone of a yoga class.



You think yoga cannot evolve – there is a reason why it's been taught like that for hundreds of years.



Yoga is your way to relax and calm down. #onlyhereforSavasana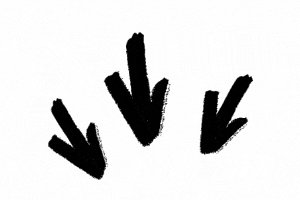 100% free, save your seat now
More Voices about Young Ho Kim and His Style

I cannot wait to learn more – sign me up!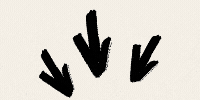 100% free, save your seat now