Developed in 1982, Forrest Yoga is renowned as an internally focused yoga practice that encourages a transformative inner experience. With thousands of licensed practitioners around the world, the style allows yogis to deeply connect with spirit – specifically targeting and working through physical and emotional trauma.
1. Who Created Forrest Yoga?
Forrest Yoga was developed by yoga teacher and medicine woman Ana Forrest in 1982. Following a classmate's dare, Ana Forrest began her journey with yoga at the age of 14. She says of the experience, "I wasn't good at it, it was difficult for me, but there was something there that drew me in — that tapped a deep craving."
From that point, Ana Forrest went on to become a certified instructor of yoga at age 18. Through this experience, she was deeply inspired, recognizing her calling as a healer. This led to her extensive study and clinical application of healing modalities such as naturopathy, homeopathy, anatomy, reflexology, pressure point therapy, craniosacral therapies, Shiatsu, chiropractic work, polarity and hands-on healing. The time with each of these modalities has inspired and informed her life-long work.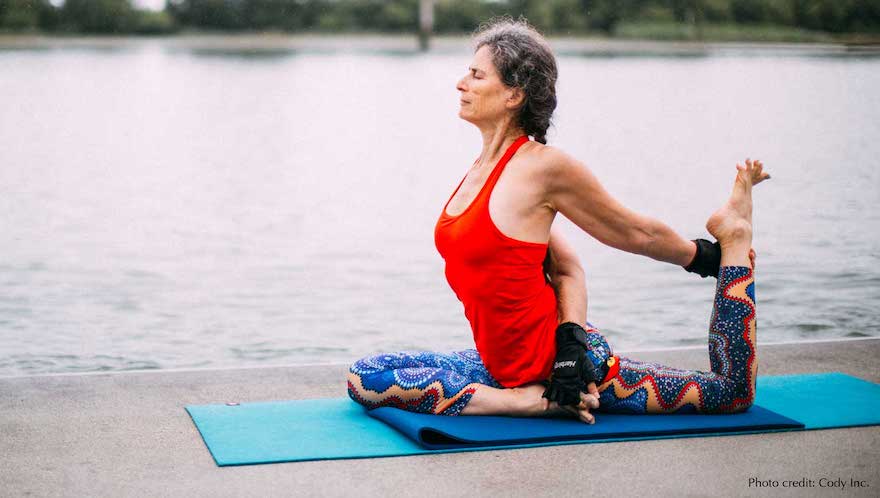 Ana Forrest's healing pursuits also led her to take many intimate studies in Pipe Ceremony, Vision Quest and Sweat lodge, with many skilled Native American and African healers. She is an ordained practitioner of Native American Medicine, a Reiki Master, a Certified Regression Therapist, and a graduate of Anthony Robbins Master University.
As a faculty member at The University of Bridgeport College of Chiropractic, Ana Forrest also sits on the Board of F.A.R.E. Play (Foundation for Athletic Research and Education), as well as Earth & Sky Circle (an organization for Native American Ceremony).
"If you want to use yoga to heal emotional pain, you must find out where it resides in your body and learn to take your breath there. I don't teach yoga to help people to transcend. I want people's Spirits to reside in their body. I literally want to help people embody their Spirit, not go through life fragmented."
Ana Forrest teaches and creates her workshops and events with her partner Jose Calarco, who also is a medicine man. For twenty-five years, he has a long and wide-ranging relationship with the arts in Australia and the world. In this time his work has covered a wide spectrum of experience in the fields of dance, theatre, yoga, film, and music.
For decades now, Jose Calarco has been the Ceremonial Leader for Forrest Yoga events lead by his wife Ana Forrest, the Creatrix of Forrest Yoga. As well as creating and teaching ceremonies, Jose Calarco tells the creation stories of the First Peoples of Australia and other shamanic ethnicities – weaving them beautifully into the intention for the yoga practice.
Jose Calarco brings his passion, spirit, playfulness, reverence, and gratitude, for the ceremonial traditions of the First Peoples to his work with Forrest Yoga.
2. How Did Forrest Yoga Come About?
Ana Forrest first developed this yoga style four decades ago, while healing and working through her own trauma and experience. She created the practice because she found that more traditional forms of yoga did not directly address deeper injuries, in her case, a "lost Soul, the addictions—the helplessness around the addictions—and the on-going suffering."
Through a blend of ceremony, intentional poses, sequencing and healing techniques of the First Peoples, Ana Forrest worked to heal her own suffering. She says: "In my own healing quest, I recognized my loss of Spirit. Something I now see in others – this modern day sense of bereft Spirit. Through Forrest Yoga you get your physical health and strength and also a place in which to welcome your Spirit back home. And by this I do not mean a spiritual practice but rather being your authentic self."
Forrest yoga brings a fusion of these healing tools to you, to apply on the mat and further out into your everyday life. Today, Ana Forrest has been healing and transforming lives for almost four decades.
"Risk perceiving as much of the truth as you can encompass each day. Deliberately create experiences and moments where Beauty dances in your heart."
3. How Is Forrest Yoga Different to Other Yoga Styles?
Ana Forrest created this yoga style from an intuitive and profound understanding of both the human body and psyche. Combining asana, breath work and awareness of energy flow within the body, students of Forrest Yoga cultivate a sharp awareness of their personal practice and life process, which leads to a journey of self-discovery, healing, and release.
This is the strongest differentiating factor from other yoga styles; Forrest Yoga embodies a strong emphasis on physical, mental, and emotional healing while at the same time directly working with the growing challenges and needs of our society.
Forrest Yoga is an intelligent system that allows space for physiological experience to safely heal, release tension and bring new energy to every part of the body. Teachers of Forrest Yoga are trained to provide compassionate hands-on support to their students' practice, enabling them to naturally move into a deeper experience.
Practitioners are taught to utilize the breath in order to sharpen focus, enhance awareness, cleanse the body and become truly energized. However, there is also a playful side to Forrest Yoga. Ana Forrest's work speaks to the universal human for challenges, adventures, and delight.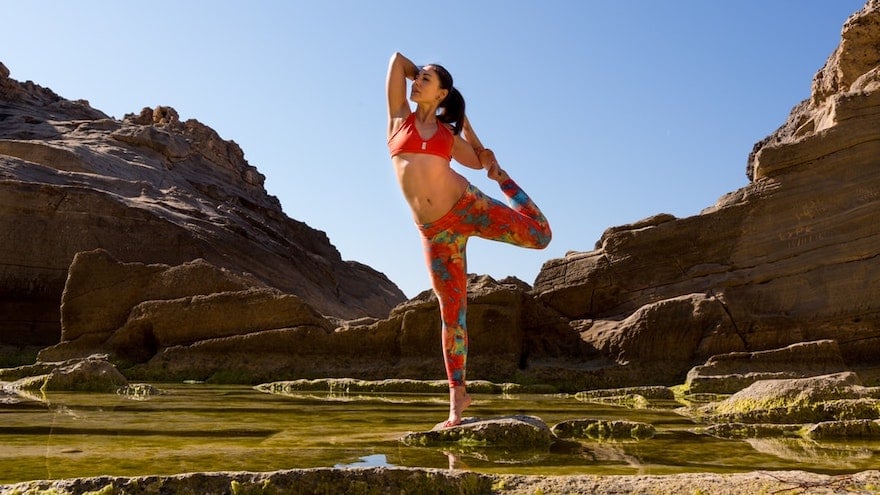 In terms of structure, Forrest Yoga contains some elements of Sivananda yoga, the focus on alignment (and use of props) of Iyengar yoga, as well as the flowing sequences and heat of Ashtanga Vinyasa yoga.
As Forrest yoga evolved, Ana Forrest added a number of asanas and creative sequences specifically targeting modern societal needs. Some poses even use a rolled-up yoga mat.
"I took poses and modified or created new ones to address today's lifestyle physical ailments. For example, the ailments that our bodies are manifesting due to our lifestyle – lower and upper back pain, neck and shoulder issues, carpal tunnel syndrome, intestinal disorders", Ana Forrest says.
In terms of the connection of mind, body and spirit, Forrest Yoga teaches students to follow the breath, in order to travel deeper into the layers of the physical, mental and emotional bodies. An example of this is a posture involving neck tension release. Beyond solely the physical, this practice serves to clear the paths for the mental intelligence of the brain to communicate and flow with the wisdom of the body.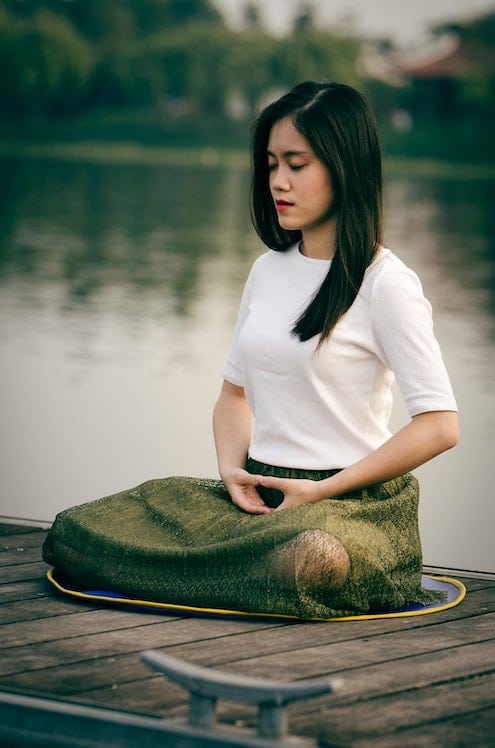 Forrest Yoga also involves unique sequencing, which serves to move stagnant energy, ultimately allowing you to navigate life with more power and grace. Classes are usually conducted at a warm temperature (85 °F, 29 °C) and the practice commences with pranayama (breath work), before moving to seated poses. This is followed by the 'hot part' of the class, which may involve standing poses and other asanas that gradually increase in exertion level. Asanas are held in intense contemplation from anywhere between ten inhalations to several minutes.
4. What Is the Mission of Forrest Yoga?
During her time spent on a reservation many decades ago, Ana Forrest had a vision: She envisioned herself standing, with rainbows radiating from her palms and feet, circling the planet through and around her body. Around her were the sun, moon, and stars.
Searching for the meaning of this vision, she came across the story of Black Elk – a holy man of the Oglala Lakota tribe (Sioux). His life mission was to protect the sacred 'Hoop' of his people.
The Rainbow Hoop refers to people living in sacred harmony, just as the colors of the rainbow exist in perfection together. He saw the spiritual deficiency of those around him, stating that 'the Rainbow Hoop of the people has been broken.'
"To create in each of us a sense of freedom, a connection to our Spirit and the courage to walk as our Spirit dictates, and thus enable us to do our part in Mending the Hoop of the People"
Upon learning of this message, Ana Forrest could make true sense of the vision she had. In experiencing this powerful connection, she made a pledge to play her part in 'mending the Hoop of the people.' This promise took the form of Forrest Yoga, as she carried this pledge in its creation, development and mission.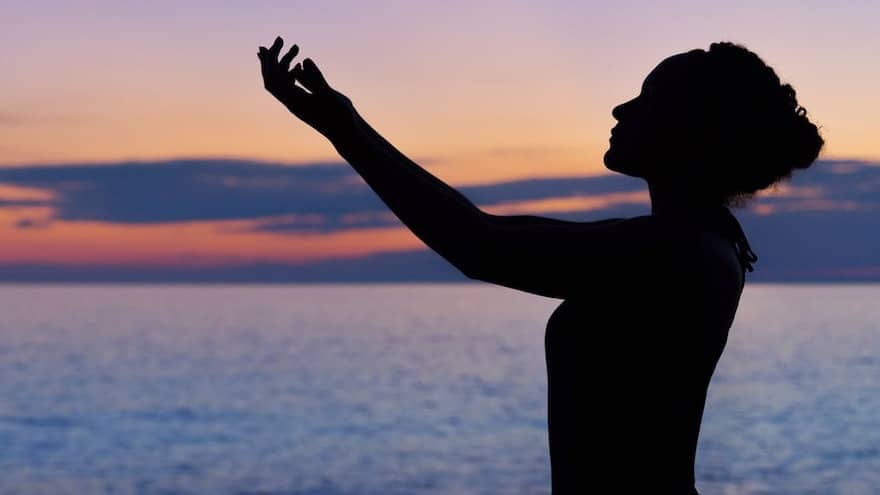 5. What Are the Pillars of Forrest Yoga?
You don't have to be an advanced yogi by any means to practice Forrest Yoga. All that is required is a genuine willingness to learn how to feel authentically and to respond honestly. This yoga practice is founded on four key pillars.
Breath
Forrest Yoga teaches students how to breathe deeply, using breath as a means of connecting with and feeling your body. The practice uses the power of breath – i.e. the life force – to bring a sense of aliveness into every single cell of the body and to ignite the passion for life.
Strength
Forrest Yoga teaches to connect with the core, encouraging strength and centeredness. The intensity of sequences allows students to develop the skills necessary to awaken each of the senses. Long held poses assist the progress, enabling students to move deeper within poses. Combined with the use of heat, the body is cleansed from toxins, as deep inhalations oxygenate and rejuvenate the cells of the body.
Integrity
Forrest Yoga shows students how to become proficient at safely tailoring each pose to themselves, and what works best for them, specifically with physical and emotional injuries. As practitioners learn to work honestly at their edges, Forrest yoga develops a certain fortitude for facing struggle and fear. This paves the way for grace, integrity, self-awareness and playful curiosity to enter daily life.
Spirit
At the core of Forrest Yoga is the intention to create a sense of freedom, evoke a connection to Spirit and promote the courage for students to walk as their own Spirits dictate. This yoga practice encourages and creates space for seekers to go deeper and find their personal truth. It encourages practitioners to heal, grow and welcome their Spirit back into their being.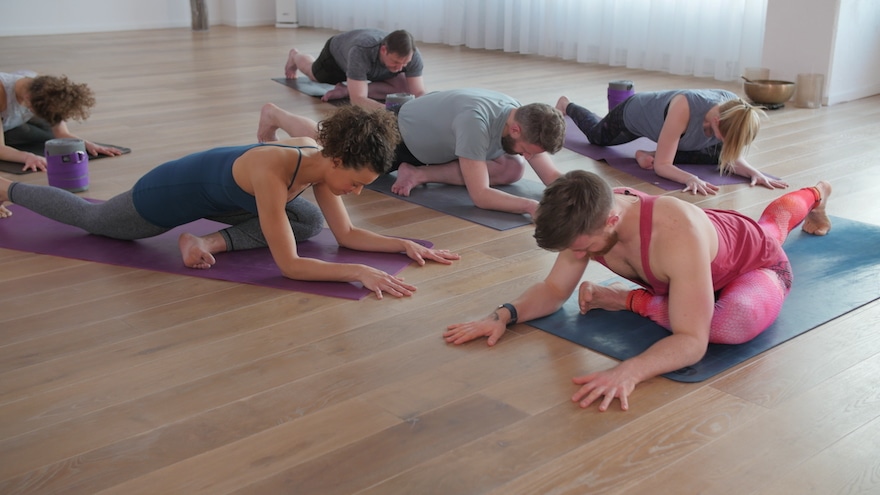 In summary, Forest Yoga is an inspiring yoga practice that honors the beauty of life and builds flexibility, intelligence, and strength while helping deepen the relationship with the authentic self. As the creators of Forrest Yoga say: 'Accessing your intuition – the voice of your Spirit – builds personal strength and ushers integrity into your daily interactions.'
6. Who Can Practice Forrest Yoga?
As a yoga practice, it has many similarities with other yoga styles, but where it stands apart is the focus on an intensity of holistic healing: mind, body and spirit.
All levels of yogis are welcome on this journey since beginners through to advanced practitioners all have something to gain. Forrest Yoga meets each student exactly where they are, as they are. The practice is created in such a way that it can be uniquely tailored to individuals, both emotionally and physically – providing a safe and sacred place to explore their inner worlds.
7. Where Can I Try Forrest Yoga?
To fully experience the beauty, power, and uniqueness of the Forrest Yoga practice, your best bet is to try it. So, if we've sparked your interest and you're itching to try this practice, we have you covered!
One of TINT's favorite yogis, Finlay Wilson, introduces you to the basics of Forrest Yoga in his 7 Days of Flexibility program. This plan will leave you feeling a new level of spaciousness within your body, enhancing your awareness of the postural muscles to move you towards the goal of effortless alignment.
In this 7-day program, each day will focus on breathing exercises, channeling your attention through a carefully crafted intent and focussing on building awareness in the body and strengthening your core, legs, and shoulders to help you feel at ease in the poses while addressing some of the habitually tight spots in the body from everyday living.
If you're interested in a real-life yoga experience, Ana Forrest and Jose Calarco hold many programs throughout the year, including teacher trainings and opportunities to study directly with Ana Forrest, as well as events with other Forrest Yoga teachers. These can be found across five continents.
Check out their website for more details.
References:
https://www.forrestyoga.com
http://anaforrest.yoga