June 21, 2019, is International Yoga Day 2019 where yogis all over the world celebrate an ancient tradition that unifies body and mind and has become more than just a workout for many of us.
Yoga has become a mindset, a lifestyle, a way to inner peace and balance. It is not about exercise but about discovering the sense of oneness with the self, the world, and nature. By changing our lifestyles and creating consciousness, yoga can increase well-being. We from TINT think that International Yoga Day 2019 is a great occasion to raise awareness for the importance of excellence in yoga. That's why we focus on excellent yoga content as the essence of a valuable yoga practice.
1. Why We Celebrate International Yoga Day 2019
The International Yoga Day is an event to raise awareness of the benefits of yoga on mental health and celebrate yoga. Upon the proposal of the current Prime Minister of India, Narendra Modi, the United Nations General Assembly declared June 21 as the International Yoga Day since this is the longest day of the year in the Northern hemisphere and has a special significance in many parts of the world.
The first International Yoga Day was held on June 21, 2015, and has since been celebrated in many countries around the world. Not only the Embassy of India organizes a series of events culminating around that date every year, but yoga communities all around the globe take this opportunity to hold special events and yoga classes to feel more connected than ever to their fellow yogis all over the world.
"Yoga is an invaluable gift of India's ancient tradition. It embodies unity of mind and body; thought and action; restraint and fulfillment; harmony between man and nature; a holistic approach to health and well-being."
2. The Importance of Excellence in Yoga
On the occasion of International Yoga Day 2019, we want to draw attention to the main objective of yoga: spreading health and happiness to those practicing. However, this is only possible with excellent yoga content based on modern and scientific knowledge.
Since yoga is intended to nurture your body, you should be just as picky with the practice you chose for your body as you are with the food you put into your body. Your body is your temple and you should treat it with respect and care.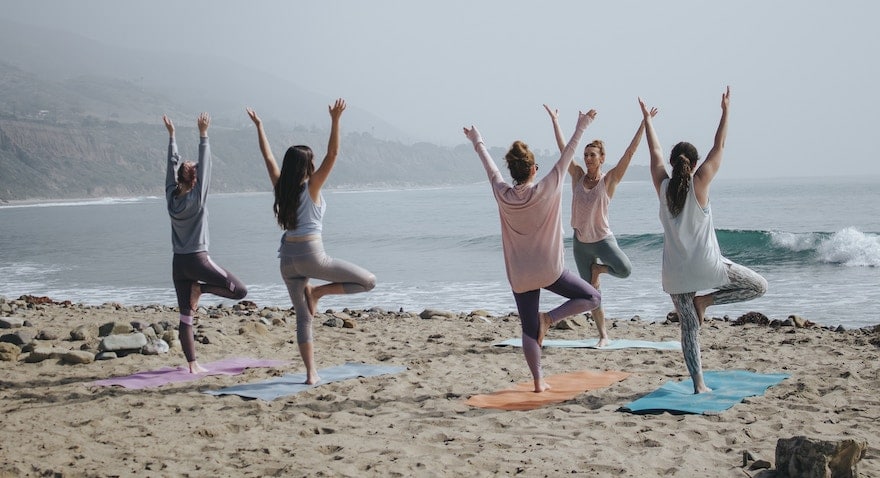 While it is great that online yoga has become a growing global trend, giving yogis around the world the possibility to practice at any place and at any time, the incredibly large number of different websites out there also brings certain risks and dangers.
The incredible amount of content offered online makes it impossible for consumers to identify excellent yoga content amongst the masses. Some of the online yoga content available may even be dangerous since superficial knowledge and incorrect practice can cause serious harm to unexperienced yoga practitioners who do not have the help and support of a yoga teacher.
This is why we from TINT are committed to offering excellent yoga content directly from the source that is not only easy to access online but also prudent and safe. That is why we've created TINT to enable people around the world to learn yoga in a healthy and proper way. It is an FYBY platform – For Yogis By Yogis – that is more than just a business, it is a community.
"TINT offers the secrets and knowledge of the world's greatest yoga minds."
But why does quality matter in yoga? Here are three main reasons for the importance of excellence:
2.1. Responsibility
You are responsible for your mind and body and this is why you want to choose excellent yoga content for your practice, i.e. the best content available out there. If you are a yoga teacher, you have even more responsibility since you are responsible for your students and their mental and physical health and well-being.
So as a yoga teacher, you have the duty to really commit yourself to the science of yoga and to study and understand the underlying anatomical and philosophical principles of yoga.
2.2. Credibility
Especially in times of social media, it is difficult to find excellent yoga content with deep and valuable knowledge. Remember that the number of followers on a certain social media channel does reflect neither the skills nor the credibility of a yoga teacher. We from TINT believe that knowledge is crucial for developing a profound understanding of your body and physical health.
However, building strong customer relationships is just as important and goes beyond pure knowledge sharing. This is why we aim to create a community of like-minded yogis and movers where everyone can become part of an engaging and caring environment.
2.3. Efficiency
Nowadays, our lifestyles are so busy that we have very little time for ourselves. So it is even more important to use our time wisely and efficiently. With TINT, you can learn from the world's greatest yoga minds and train with the best to spend your time and energy in an efficient manner and without a detour. Learn what took them decades to master and transform your yoga practice immediately.
Have a look at TINT founder Young Ho Kim's message about the importance of excellence in yoga:
3.What You Always Wanted to Know About Yoga
On the occasion of International Yoga Day 2019, we dug out some interesting yoga statistics, which reveal some striking facts about our favorite practice that may be new to you.
3.1. Who Is Practising Yoga?
The amazing thing about yoga is that it has no age and gender restrictions as a general practice. From children to seniors, there is a yoga style (or even various yoga styles) for everyone. The same is true for gender: the principles and routines are designed for both males and females although yoga is currently being dominated by women.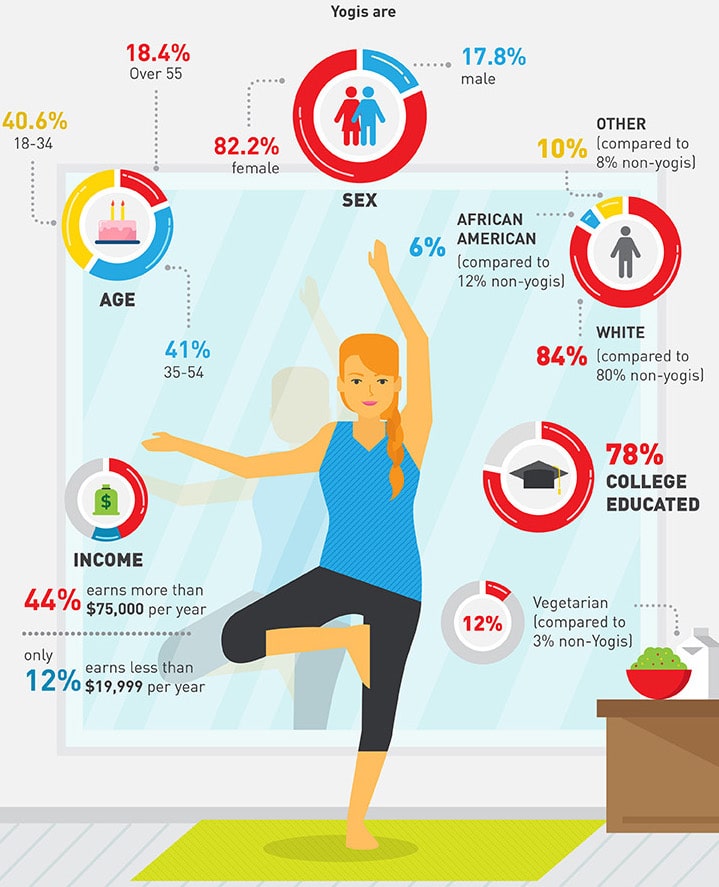 3.2. Why Are People Practicing Yoga?
Although there are various reasons to practice yoga, improved health, physical exercise, stress management and spiritual activity are among the most common reasons why people roll out their yoga mats. Some even practice yoga to treat a health issue.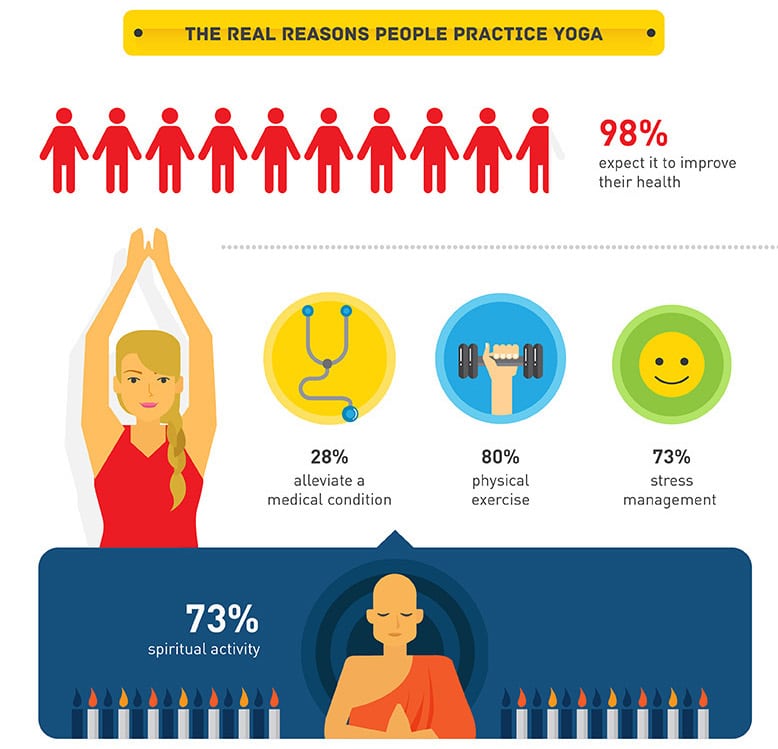 3.3. Does Yoga Improve Your Health?
But does yoga really improve your health? One thing that is for sure is that practitioners of yoga belong to the more health-conscious group. There even is quite a large chance that yogis will be able to avoid heart disease. They also have 50% lesser visits to the doctor in comparison to their non-practicing fellows. If you're hiring, consider hiring people who practice yoga since they have 27% lower chances of sick leave.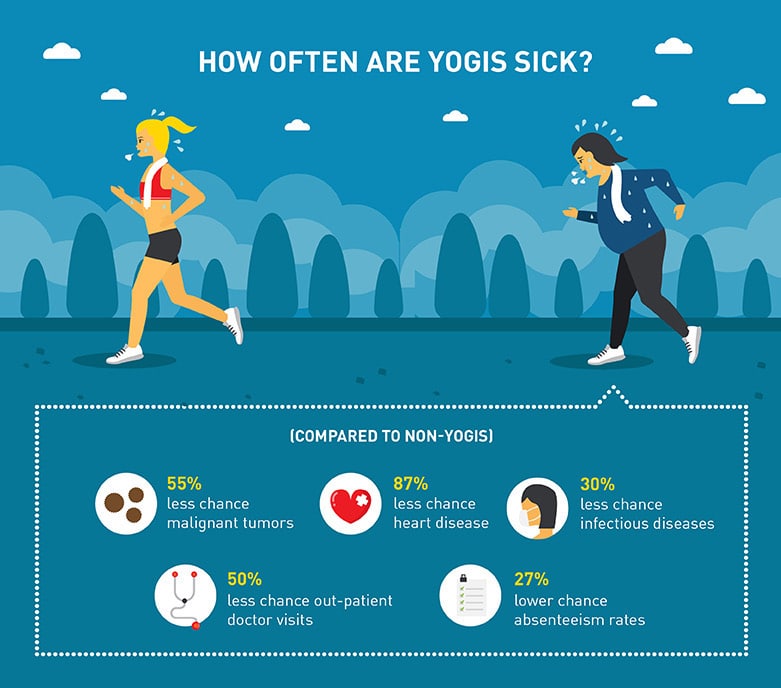 3.4. What Are the Most Popular Yoga Styles?
Okay, we've got you hooked now. You've got your yoga pants ready and want to hop on your yoga mat. But with more than 50 yoga styles to choose from, which one is for you? Maybe it's a good idea to start with one of the most popular ones. Why not try a traditional Hatha yoga class or a more dynamic Vinyasa flow?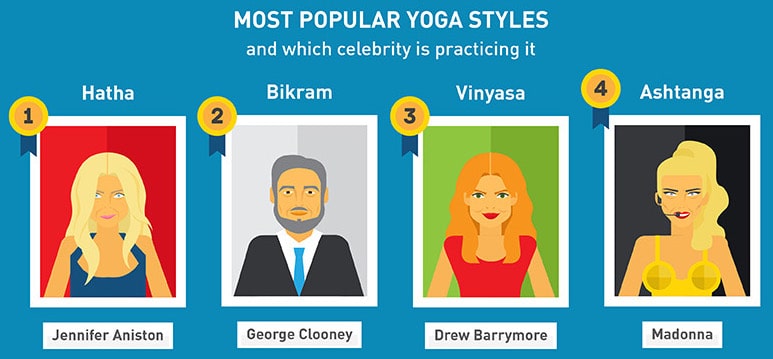 3.5. What Are The Latest Yoga Trends?
You've already been practicing yoga for quite a while and want to try something new? The good news is that new yoga styles are emerging almost every day. While it may take much getting used to yoga styles such as Naked yoga (which is probably quite self-explanatory) or Doga (where you're practicing together with your dog), AcroYoga is definitely worth a try! And the best thing: You can even practice it on TINT!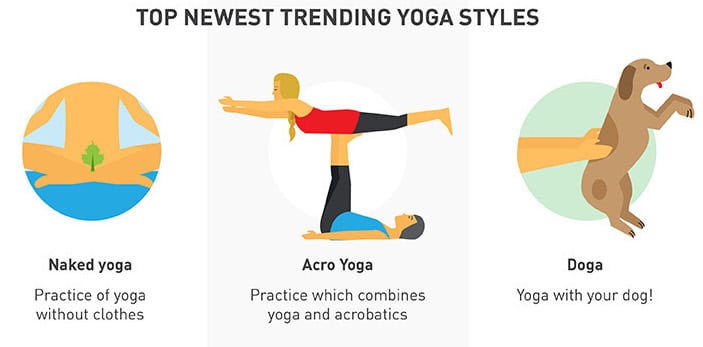 3.6. Where to Practice Yoga?
So, there is only one question left: Where to go to practice yoga? Fortunately, there are many different possibilities nowadays. These days, you can not only practice in yoga studios and gyms, but more and more businesses start to offer yoga for their employees since regular yoga practice may reduce sick days, as we've already seen. Apart from that, our modern technology now even enables us to practice yoga anywhere and anytime thanks to online offers such as TINT.

4. Creative Yoga Hybrids to Switch Up Your Yoga Practice
When it comes to moving your body, there are all sorts of approaches you can take. Some people are into really extreme options, such as running ultramarathons. Some have a sport they've done since childhood, such as swimming, and they keep it up and keep moving all throughout their lives. And some want to try new things and experiment while maintaining flexibility and strength.
Luckily, yoga offers a really interesting way to do both of those things, and there are enough creative yoga options to keep trying new things for a very long time. If you've done yoga before or if you have no idea what a down dog is, it doesn't matter; you can find your groove with some interesting options.
For example, if you're interested in something really unusual, there's such a thing as aerial yoga. What else might you try? This graphic offers some ideas.